Luxury Safari Tents From Eco Tents Australia
A couple of weeks ago, we looked at luxury tents verse eco huts, and from this article, we concluded that luxury safari tents are the perfect in-between. They're better than your average luxury tent, yet they're cheaper and not a permanent structure like an eco hut.
Given that Eco Tents Australia's Eco Tent is a luxury safari tent, today, we thought we'd take a moment to blow our own horn and explain why you should buy luxury safari tents in Australia from us!
Continue reading to discover everything you need to know to make an informed decision when buying luxury safari tents.
100% Australian Made
Our luxury safari tents are 100% Australian made, which you don't find in many other tents on the market. As such, superior quality is a guarantee. We design and manufacture our tents right here, on our premises in our factory, which means we do the quality control ourselves and believe me, we hold a high level of standard.
Moreover, the materials we use are second to none. We use an Australian made commercial-grade shade cloth for the top layer, a solid waterproof fabric on the second layer, and an Australian made quality 505gsm waterproof canvas on the third layer, the roof.
Diverse Range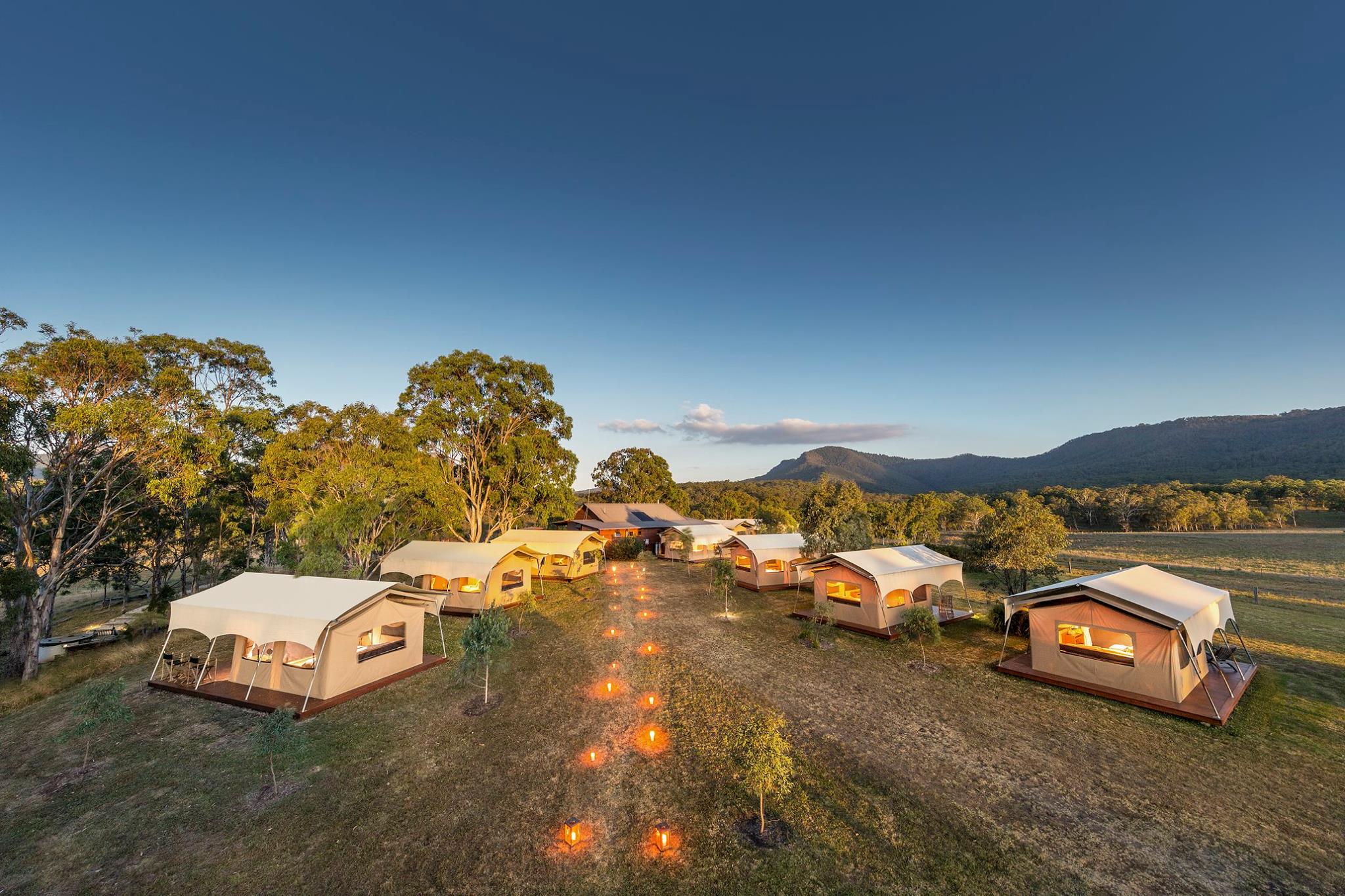 Our luxury safari tents come in a diverse range of sizes to meet all guest types. We have tents for couples (and singles), families, and larger groups. Each tent utilises 100% of the tent's footprint, maximising usable space. As such, they are large enough to fit an array of furniture, including a double bed, bedside tables, chairs, TV and much more.
Our diverse range means you can target all guest types and not be restricted to only provide accommodation for couples. This can maximise your return on investment and significantly increase your revenue.
Revenue-Adding Customisation Options
In addition to the diverse range of luxury safari tents we offer, we also provide incredible customisation options that will make our tents even more luxurious and allow you to increase your rates and increase your revenue.
Customisation options include a glass sliding door entry (rather than a zip-up entry), eco-friendly composite decking, and for the Family Plus Tents, an ensuite pod. Our ensuite pod is a unique offering that provides a private toilet and shower facility within the tent, so guests don't have to use communal facilities. This can be a major selling point, helping you stand out amongst other glamping providers in your region.
Easy Installation
Our luxury safari tents are incredibly easy to install and are available in turnkey installation or kit format. You can arrange your own installation, or our team can install the tents ready for business. We provide all instructions, and you need only a handyman or tradesman to install our luxury safari tents. However, foundations, footings and support posts are not provided as they are site-specific, and council approval may be required.
The rule for obtaining council approval can vary from one council to another. Many councils have different regulations regarding decking assembly, minimum deck height above ground level, etc. We recommend that you check with your local council just to be sure.
Each tent takes about one week to completely install, which means you can have your glamping business up and running in no time at all.
Conclusion
If you're looking to open a glamping business or even an ecotourism business, then luxury safari tents may be the perfect lodging choice for your business and its guests.
Eco Tents Australia is one of the countries leading glamping tent manufactures, specialising in luxury safari tents. Our tents are 100% Australian designed and manufactured, are available in a diverse range to meet all guest types, offer excellent revenue-adding customisation options such as private ensuite pods, and they're easy to install!
For more information about our luxury safari tents, you can view our range here or contact our sales representative on +61 418 717 197.