Tips for Running a Luxury Glamping Business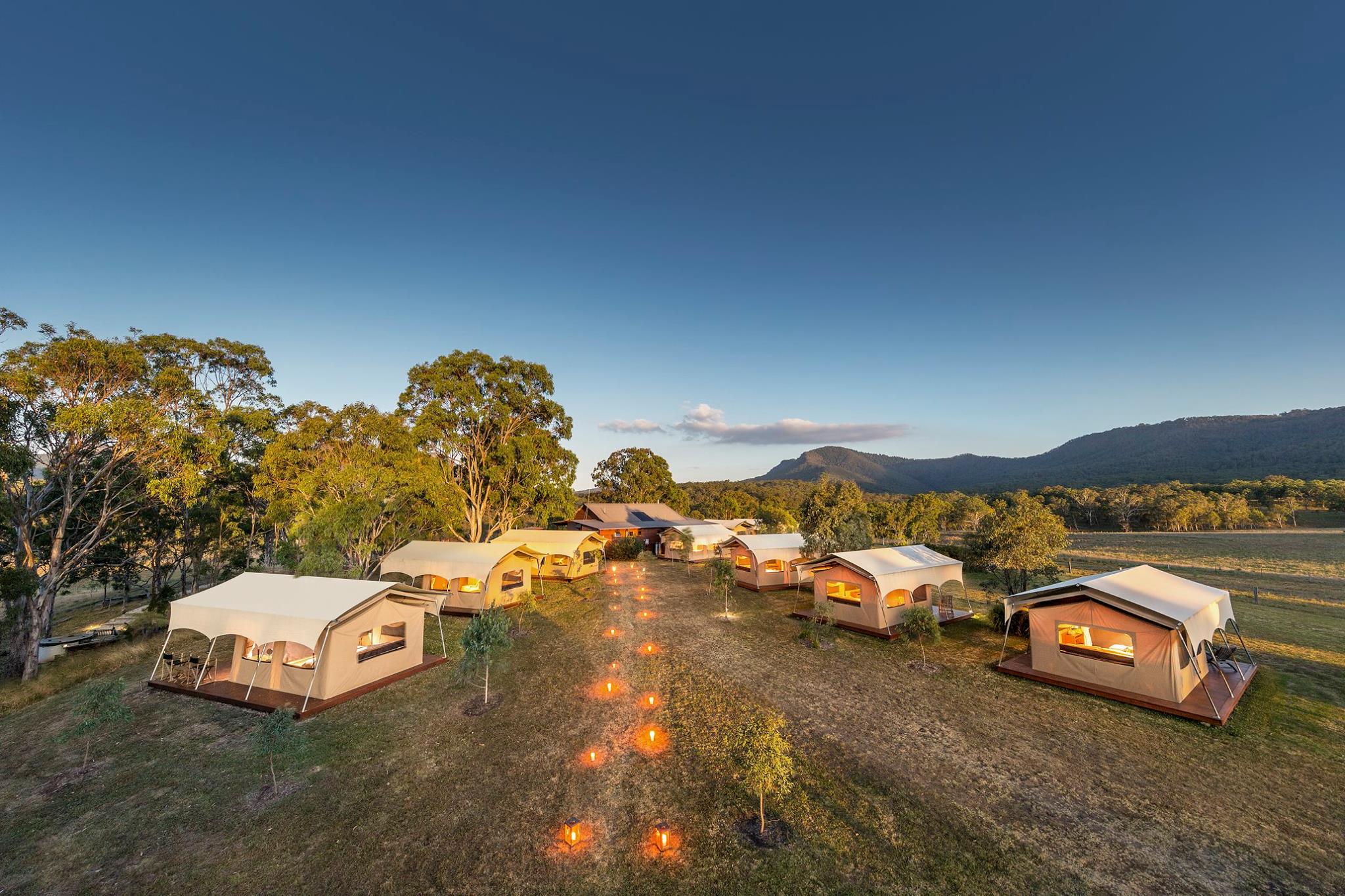 Whether you're looking to start up a glamping business, a new glamping business, or an established glamping business, there are always ways to improve business and make things run more smoothly and more efficiently.
While Eco Tents Australia is not a luxury glamping business, we are manufacturers of luxury glamping tents and have intricate knowledge of the glamping industry in Australia. Glamping has been around for some years now, but it's only in the last 2-3 years and the previous 12 months, especially that it's really taken off and become more of a mainstream accommodation option. If we have COVID-19 to thank for anything, it is this. Because of the travel restrictions, Australians are taking to caravanning, camping, and glamping like never before. As such, we've seen a significant increase in start-up glamping businesses, and indeed, orders for our luxury glamping tents.
However, an increase in demand isn't enough to guarantee a luxury glamping business will be successful. While the guest numbers are there, you have to know how to run the business. You need to know how to offer guests an excellent experience, how to get bookings, how to make guests become return guests, and you need to provide the level of service and accommodation that guests expect for the nightly rate you charge, amongst many other things.
As I stated, we're not a luxury glamping business, but we work closely with them, especially during the start-up process, and we've supplied our luxury glamping tents to some of the countries most successful luxury glamping businesses, including Spicers Canopy Luxury Tents in Maryvale, QLD. Therefore, we have a lot of knowledge regarding what it takes to run a luxury glamping business, and we'd like to share this knowledge with you.
Continue reading to discover tips for running a luxury glamping business for industry professionals.
Do Competitor Benchmarking
Put yourself in your audience's shoes, and think about the things that make you choose one accommodation provider over another. Common things like price, rating and facilities are just as important when choosing a glamping provider as they are booking a hotel or resort.
Therefore to be competitive and get bookings constantly, you need to compare your business with other glamping businesses using a set collection of metrics, such as price, rating, and facilities. You need to be on par with your competition or provide better value for money to ensure your business gets business.
Keep Track of Your Figures
It's not enough to budget before opening and then drop the ball. You need to stay on top of not only how much money is coming in, but more importantly, how much money is going out. Your initial budget would have been based on estimations for various things. Now that the business is up and running check the actual costs against the estimated costs to make sure your profit covers your expenses.
Running a glamping business brings with it many expenses, along with many sundries, including unforeseen maintenance costs. Don't assume you're on top of your figures unless you really know you are.
Know your Audience
Study your audience to see what it is they want from a glamping experience. It may mean talking with guests in person, asking them to complete a service, or doing online research. Look at what they're willing to pay for each season for the level of luxury you provide. And know what you could charge if you were to provide a higher level of luxury.
Knowing your guests' expectations will ensure you offer an experience that ticks all the right boxes. This, in turn, helps promote your business through positive reviews and return guests.
Offer Flexible Pricing
Don't assume one price fits all. There are many considerations to factor into your pricing to maximise profits. Come up with a pricing structure for low-season, mid-season, and high-season. It may pay to increase rates on a Friday and Saturday night, or a Saturday and Sunday night also.
If it's mid-week low season, it's better to lower your price and have guests than to have no guests at all. Likewise, if it's weekend high-season, you won't turn away if you increase your prices to meet demand.
Take advantage of the mid-week market by offing promotions like 'Stay 3, Pay 2'. See if you can partner with any local organisations that can use your facilities for team-building experiences, motivational workshops, and the likes. You can offer commissions to the organisations for each booking to maximise business in quiet times, significantly maximising your returns.
You have the power to change your pricing whenever needed if it's in your businesses best interest. Keep track of the availability of glamping providers in your area and adjust your pricing accordingly.
Continually Promote your Business
The promotion of your business doesn't end after listing it on the likes of TripAdvisor, Airbnb, GlampingHub, and Glamping.com. You need to be proactive in getting a following on social media. Someone may not be looking for a glamping escape right now, but they may be in the future. If you promote your business, spread the word and your branding, your business will be the one that comes to mind when they're ready for an escape – they won't even have to go to the likes of TripAdvisor, Airbnb, GlampingHub, and Glamping.com!
The best way to get a following online is through Facebook and Instagram. A picture says a thousand words, and there is no more picturesque setting than any glamping business. Go to town with photos, snapping shots of your surroundings, your tents, the facilities. Take pictures of all angles from all distances. Take close up photos, photos from a distance, and get creative; use a telephoto lens, a zoom lens, or any lens with a longer focal length.
When you have a following of thousands, you can then promote low seasons specials and attract guests direct, eliminating the need to pay hefty commissions to online booking sites.
Reinvest in your Business
If you find your first 6-months or year of operation successful, rather than go out and splurge on a new car or home renovations, consider reinvesting the money back into your luxury glamping business.
You can invest in more luxury glamping tents to welcome more guests, increasing revenue further, or you can look at making your existing glamping tents even more luxurious by adding available add-ons. Eco Tents Australia offers various add-ons, including eco-friendly composite decks, ensuite pods for private toileting and bathing, and sliding glass entry doors. Alternatively, invest in those luxury facilities you put off during start-up due to a fear of over-investing, like hot tubs!
When you reinvest back into your business, you increase revenue even further.
Play to your Strengths
If your luxury glamping business gains more popularity with a particular type of guest over another, then you may have just found your niche. Our advice, run with it! Whether it's fitness, spirituality, outdoor activities, cuisine, or eco-friendliness your business is becoming known for, embrace it and start using it as a marketing tool. Whatever it is, it's obviously working for you, so play to your strengths and use it in your marketing to attract even more guests.
A niche may be just what you need to differentiate yourself from your competition, setting you apart from the rest.
Never lower your Standards
The key component of a luxury glamping business is 'luxury'. You cannot become complacent and start dropping the ball, lowering your level of standards or luxury once word gets out and things start looking good. You have to continually strive for greatness, always looking to improve, doing something, or providing something better than other glamping providers.
As time goes on, you should look to reinvest back into the business to maintain the level of standards that you started with, if not making them better along the way.
Conclusion
Starting a luxury glamping business and continuing to run a successful glamping business are two entirely different things. If you thought opening a luxury glamping business was tough, wait till you have to keep it running – that's even tougher!
To help you run your luxury glamping business, consider the following tops;
Perform competitor benchmarking to see how your business compares with other luxury glamping business in your area.
Keep track of your figures to ensure your income is higher than your expenses.
Study and get to know your audience. By knowing what they expect, you can ensure you meet their expectations
Be flexible with pricing and changes pricing during low and high seasons.
Never stop promoting your business, even when business is booming.
Reinvest money back into the business to maintain standards and maximise revenue
Play to your strengths, embracing a niche that sets you apart from other luxury glamping business
Always maintain your standards; never be complacent.
With Eco Tents Australia's luxury glamping tents and these surefire tips for success, there's no reason why you can't build your business to become of the most well-known luxury glamping business in Australia.
If you'd like information on our luxury glamping tents or how we can help your business become even great, please get in touch with our sales team by calling +61 418 717 197.