Key Elements for a Successful Glamping Business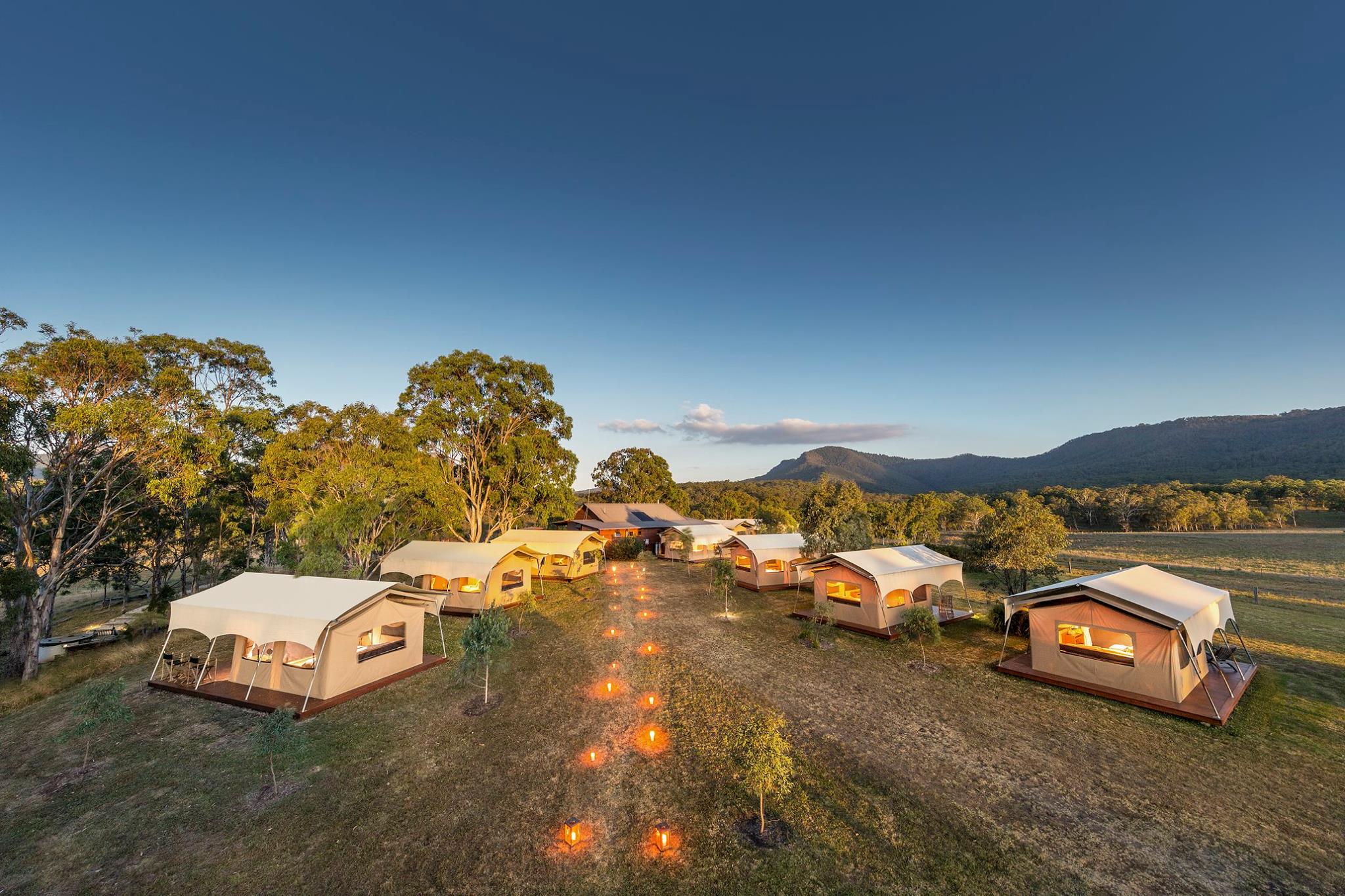 So you're interested in starting a glamping business or already run a glamping business, and you're looking for ways to make yours shine above all other glamping experiences in the region? Well, you've come to the right place. Eco Tents Australia manufactures one of Australia's best glamping tents and has successfully helped countless glamping businesses achieve just that.
While it may seem that a glamping business only requires a good location and tent with glamping amenities, and to some degree, this is correct, a successful glamping business needs much more.
Success comes in many forms. Some judge success by popularity or achieving your set goals, while others, those who are business savvy, judge success by figures. After all, it doesn't matter how popular your glamping business may be or how many goals you reach; if your books are in the red, then you're failing.
The true sign of a successful glamping business is a strong return on investment (ROI).
Eco Tents Australia provides one of the main ingredients for a successful glamping business through our luxury Eco Tents. Today, we will explain why our Eco Tents are a key element to a successful glamping business and offer insight into other key factors you can adopt to ensure success in your glamping business.
Luxury Glamping Tents
Eco Tents Australian provides luxury glamping tents in their Eco Tent range, environmentally-friendly tents manufactured in Australia from the highest quality materials.
It's not enough to only have a tent with glamping amenities. Consumers are savvy, and they want the complete glamping experience, so offering luxury tents is essential.
Eco Tents are a prime example of consumers' expectations. The Eco Tent range features four tents ranging in size, with various customisation options available. The smallest tent in our range is spacious enough to fit a queen-size bed, side tables, TV, and plenty of room to move around, while our largest tent, the Family Plus Tent, can support a queen size bed, side tables, TV, single bed, sofa/sitting area, and an optional ensuite pod.
The Family Plus Tent is a top of the range glamping tent that offers the most luxurious camping experience of all. Aside from providing 26.25m2 of space, it presents the option of a personal ensuite pod for the ultimate glamping experience.
View our range Request a Quote
If you'd like to learn more about using our Eco Tents for your glamping business, please be sure to get in touch with our sales team on +61 7 3393 4880. We will be more than happy to answer any questions you may have about our tents, provide a quote and discuss our financing options.
Personal Showers & Bathroom Facilities
One of the most significant drawbacks of camping is the absence of shower and bathroom facilities. All successful glamping businesses recognise this and have capitalised on this by offering guests such facilities.
While providing a separate shower and bathroom facility meets the needs of glampers, being able to offer guests their own private shower and bathroom facilities is next level. It's the difference between getting top dollar per night per tent and being just another fish in the sea, fighting to attract glampers.
Eco Tents Australia identified the potential to offer private shower and bathroom facilities within glamping tents and designed the ensuite pod to suit our Family Plus Tents.
WiFi
There's glamping, and then there's glamping with WiFi. If you're looking to maximise your glamping business's attractability, WiFi is a must. Staying connected whilst out in the wilderness, countryside, outback, or hinterland it the epitome of glamping.
To be recognised as one of Australia's most luxurious glamping businesses, you need more than just a great location and luxury tents. You need WiFi. More specifically, your guests need WiFi.
Don't look at it as an added expense. It can be added to the nightly rate, and believe me, guests will be more than happy to pay $10.00 extra a night to be able to share their experience with friends and family on Facebook and YouTube, and it will provide free promotion for your business.
Firepit
When people think about camping, they imagine sitting around a fire at night, sharing stories and making memories with friends. Glamping is to take camping to a more luxurious level, not to strip it of its core fundamentals.
Therefore, having a fire pit for guests to gather around at the end of each day is an absolute must. You would be doing your business an injustice not to build a firepit and offer this quintessential experience in your glamping business.
Surprisingly, not all glamping businesses have considered adding a firepit to your experience. In fact, hipcamp.com, Australia's go-to glamping accommodation booking site, consider it as a 'perk'.
Firepits are so affordable and will be another perk for you to offer guests. You'd be crazy not to offer one with your glamping business.
The photo above is taken at Spicers Canopy, one of Eco Tents Australia's first clients – you can see our Eco Tents in the background. Spicers Canopy is widely regarded as one of the best glamping experiences in Queensland, if not Australia. They're successful, and they have a firepit (and our glamping tents!)
Niche Experiences
As with any business, one way to get a leg up on your competition is to offer something that the others don't, something unique and attractive to potential guests. Luckily, with glamping, the options are endless.
As your niche, consider experiences such as yoga glamping experiences, health glamping experiences, eco glamping experiences, and meditation glamping experiences. Dog-friendly glamping experiences are also in demand.
You can pair up with local yoga teachers, guides, chefs, nutritionists, etc. and offer weekly packages that maximise your ROI. Offering weekly packages is also an excellent way to avoid only getting weekend bookings.
If you have an interest that you can incorporate into your glamping business, it will make you more passionate about the business and attract likeminded people.
Fishing & Canoeing
If your glamping business is located near a stream or river, it only makes sense to take advantage of your location by offering water activities free of charge.
Advertising activities like fishing, canoeing or kayaking can be a significant drawcard to potential guests. For those that wonder how they will send their days, presenting fun bonding experiences can make glamping all the more attractive and be the difference between choosing you over your competitors.
Conclusion
If you're looking to make your glamping business more profitable or create a glamping business set up to succeed, then there are certain key elements to consider. It's not enough to have a great location with tents and electricity. What makes glamping as popular as it has now become is luxury tents, perks and amenities.
Therefore, in order to create a successful glamping business, you need to provide guests with luxury glamping tents such as those offered by Eco Tents Australia. Along with the luxury tent, you need luxury amenities like WiFi, because apparently, no one can live without the internet, and a fire pit, because what's camping without one?
Focusing on a niche such as yoga, health, eco, meditation etc., will also help you stay competitive. By offering something unique such as a yoga glamping experience, you gain attention and retain weekday bookings. And lastly, if your property is by the water, use it to your advantage by offering free fishing and canoeing to your guests.
If you follow these suggestions and implement these key elements into your glamping business, you will be well on your way to having not only a successful glamping business but a very profitable one.
Get started today by viewing our range of luxury glamping tents.